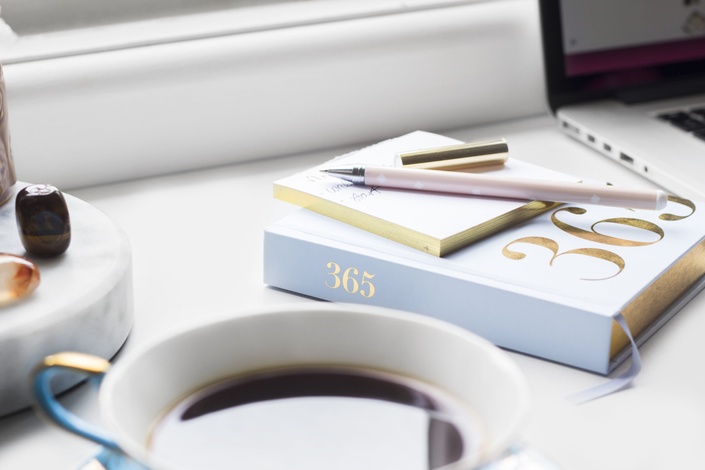 Your First Course Launch
Plan, schedule, & execute your first wildly profitable course launch in the next 6 weeks
You know that passive income is the key to making it big online so you can quit your day job to work from home. But the whole thing seems so… elusive.
You've tried everything you can think of to make money from your blog, like…
Filling your posts with Amazon Affiliates links in the hopes of making a sale
Putting together a Media Kit and praying that your favorite brands stumble across your blog and want to work with you
Creating digital products and services to sell to your readers (but cringing inside when nobody buys them)
You've heard that courses are the best way for bloggers to make money online, but actually putting together and launching a course? WAY too daunting with everything else you have going on right now.
You're absolutely right that creating and launching courses is the best strategy for making money as a blogger, and one that can supplement (and even replace) the income from your day job.
If you're dreaming of working from home as a full-time blogger, courses are your ticket to making it happen.
I mean, nobody likes working in cubicles or stuffy corporate offices when they could be lounging at the beach, spending time with their kids, or travelling the world instead (am I right?!).
But despite how amazing online courses can be as a source of income, the whole "creating and launching a course" process can feel overwhelming, stressful, and mega confusing.
You wonder things like...
What should my course be about (and how can I make sure people will actually buy it?)
What should I write on the sales page?
What should I talk about in the launch emails?
These were all questions I had when I dove into the world of online courses in 2016.
And let me tell you, my journey to making a full-time income with courses was NOT bump-free. Look at my first launch, for example...
My first course, WordPress in a Weekend, brought in just over $1,000 — after I'd spent 6+ weeks creating the course and putting together a 10,000-word free email course to promote it.
*Ahem*. Not exactly the best return on my investment!
Thankfully, I kept pushing on, creating more courses and improving my launch strategy as I went. Less than a year later, I had my first five-figure launch... followed by two more five-figure launches after that.
As my profits grew and I became more and more addicted to launching courses, I realized that I'd developed a "signature strategy" around how I created, launched, and sold my courses…
And today, I want to share that strategy with YOU so that you can start making the kind of money you've been dreaming of.

You CAN create a profitable online course the first time around, and I'm here to show you how.
🎉 Introducing: Your First Course Launch
The course that helps ambitious biz babes plan out, schedule, and execute their first profitable course launch — with minimal stress, headaches, and tech overwhelm.
Inside this course, I teach my exact strategies for launching online courses that generate crazy profits in a short period of time.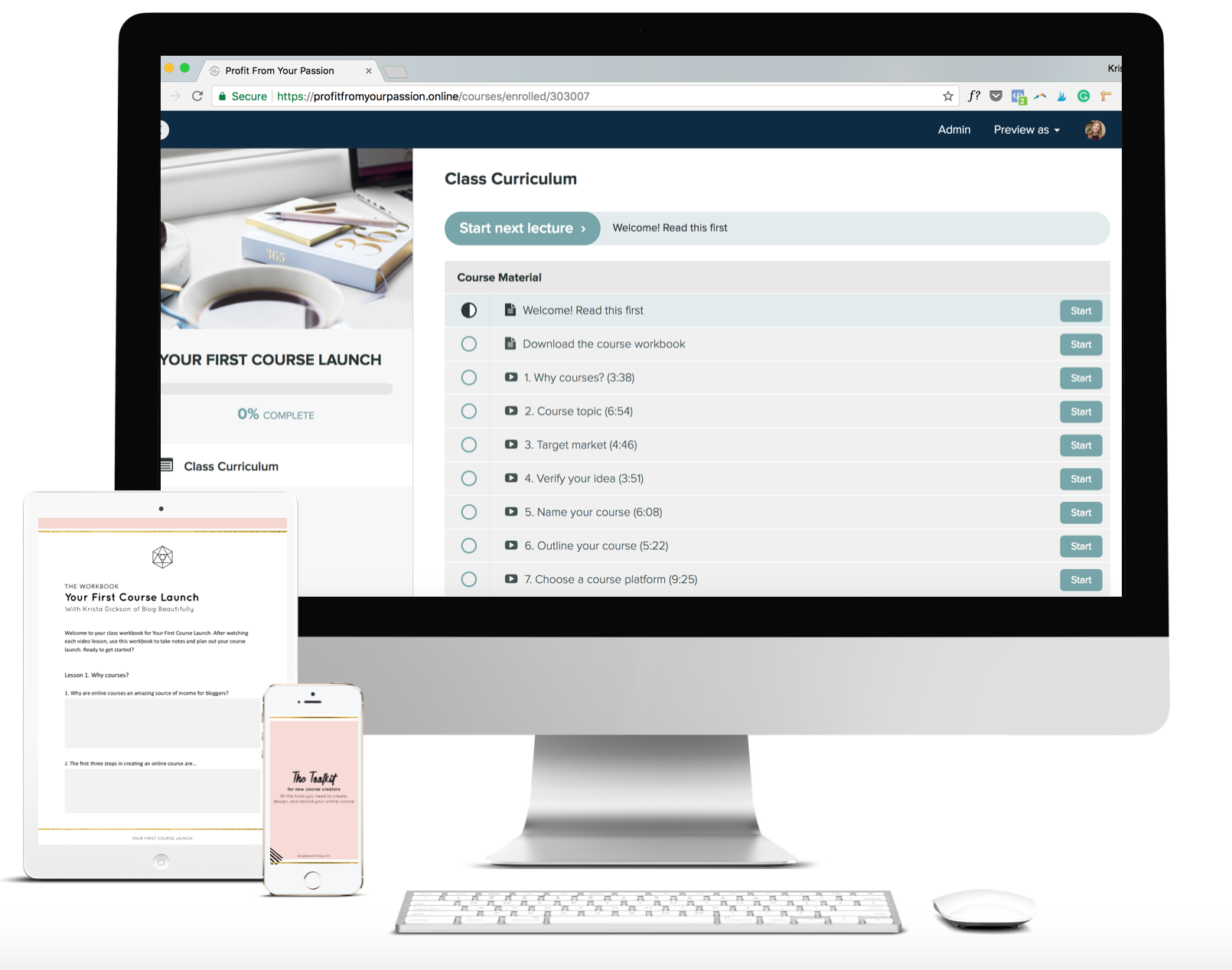 What's included in this course?
Here's everything you'll receive access to when you join Your First Course Launch today:
💻 15 video lessons on everything from naming your course, choosing your launch model, crafting a high-converting sales page, and more
💾 A downloadable slide deck with all of the material I cover inside the course
💡Immediate and lifetime access to all of the course lessons so you can work through the material at your own pace and return anytime

Plus the following bonuses...

📓 A 25-page workbook to help you take action on everything you're learning and plan out your profitable launch
📅 A Sample Launch Calendar that serves as a step-by-step guide on what to do when during your first launch
⚙️ The Course Creator's Toolkit, where I share my top tools for creating, selling, and running successful online courses
What will I accomplish?
Here are some highlights of what we'll cover inside Your First Course Launch:
The #1 thing most course creators *don't* do (but should!) that will guarantee a profitable launch
A simple but effective technique for outlining your course that will create big results for your students and entice more people to sign up
My best advice on evergreen vs. an open/closed cart courses (and which route you should go down with your first launch)
My two Golden Rules for creating bonuses that are so good, people sign up for your course for the bonuses ALONE
The 19-step formula I use to craft my own sales pages, so you can create a sales page that converts like crazy in no time
An in-depth breakdown of everything you should be doing during the pre-launch, cart open, and post-launch phases of launching your course (we get waaaay specific here!)
My 7-part email launch strategy, including when to send the emails and what to say in each email for maximum impact and sales
By this point you might be thinking:
I want to create a course, but I just don't think I have the TIME. I'm so busy!
And I totally, totally get that. But the truth is, you don't have time NOT to do create a course.
As Warren Buffett once said, "If you don't find a way to make money while you sleep, you will die working." And we don't want that!
When you join Your First Course Launch today, you'll have to access to an effective, repeatable strategy that you can use each and every time you create and launch a course — no guesswork, no headaches... just tons of profit.
When you make this small investment today, you could be earning thousands or even tens of thousands of dollars from your course sales in the next year or less. If I did it, so can you!
What are people saying about Your First Course Launch?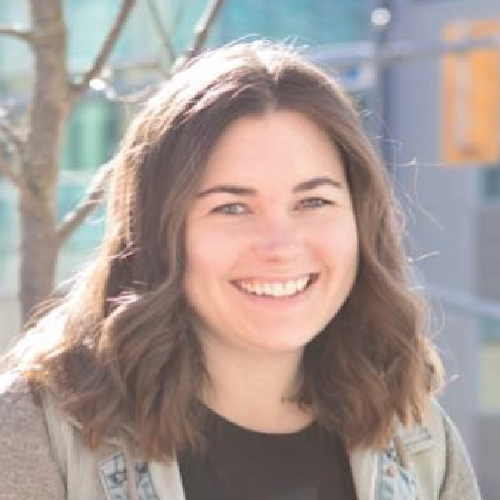 "Your First Course Launch is so straightforward and easy to follow. It's the next-best thing to someone literally launching your course for you!
My favorite part of the course was the sales page framework. I've tried analyzing other sales pages to "figure them out," but this framework made so much sense and was so easy to follow that I was able to write my sales page in under an hour!
This course is a must-have for anyone drowning in blog posts and podcasts and who's looking for the blueprint to course launches. I made back 18x my investment in YFCL with my very first course launch!"
- Alysha DeMarsh, basilandbark.com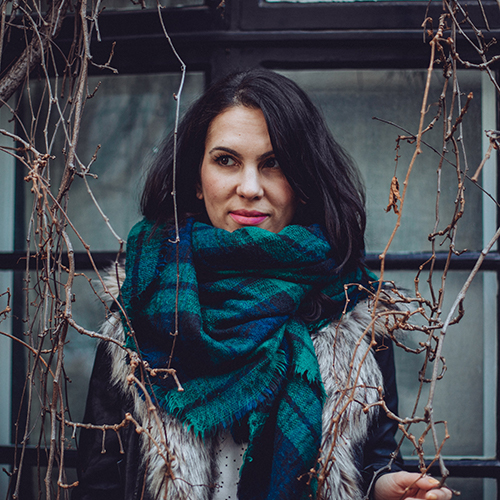 "Before signing up for Your First Course Launch, I'd already launched a course and made money through it, so I wasn't sure if I would learn anything new. I was wrong!
YFCL is so simple — I love the short videos and workbook, and Krista makes everything really actionable and clear. I am now SO super confident about my next course launch, and I even made $800 by closing my old course and marketing it again!"
- Lucy Lucraft, wanderluce.com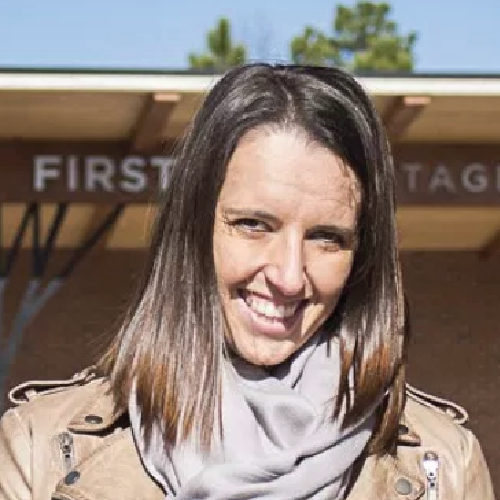 "Krista's course was the launch pad I needed to rise above hesitation and finally put all of my learning into action after spending over a year dabbling in research. The best part was that there were no secret loopholes and the course price didn't require that I sell my car!
Krista kept it real and helped me pinpoint simple specifics regarding what's actually required to launch a successful first course. Her process is simple, structured, and realistic, and it gave me the push I needed to finally take the leap from onlooker to achiever. Thanks to Krista, I don't just feel ready, I know that I AM ready."
- Liz Muroski, lizmuroskimedia.com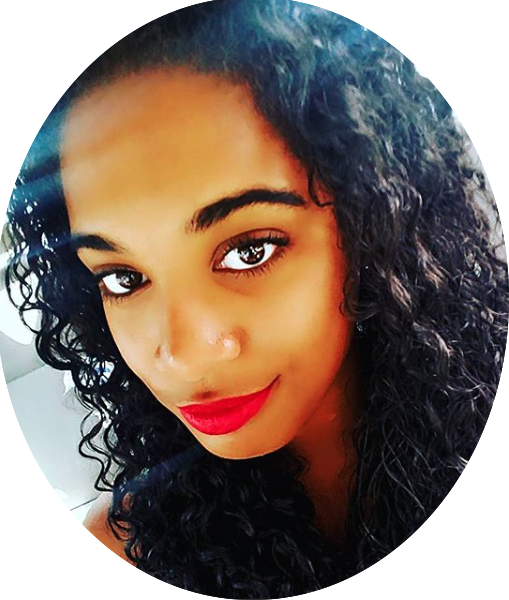 "Before taking Your First Course Launch I knew I wanted to launch an online course but I had no idea how or where to start. I've taken courses from Krista before and knew I'd be getting top dollar information, so I bought it as soon as the cart opened!
Now, I finally have a concrete plan on how to set up my launch for success. I'm currently in my beta testing phase and I'm excited to say I already have 5 interested students! If you want a complete blueprint that tells you how to launch a course without losing your mind, you NEED this course."
- Ebony Hardiman, livinglapiz.com
Worried that you don't have what it takes to create a course?
You might be thinking, "I don't have a large enough audience to sell a course to, and I definitely don't have tons of money to invest in promoting my course with ads."
I understand where you're coming from, but here's the truth...

You absolutely have what it takes to make this happen. On top of that, you DON'T need a massive audience and tons of cash to throw around to be successful with courses.
Take me for an example.
I don't have an email list with 100,000 subscribers or a massive social media following, and I don't get hundreds of thousands of pageviews on my blog every month.
I also don't have a team of assistants or a fancy Facebook ads strategist.
But what I DO have are simple, repeatable, mega-effective strategies for attracting the right people to my courses, explaining my offers, and closing the sale. And that's exactly what you'll learn how to do inside this course!
Frequently Asked Questions
Have a question about YFCL? Check out my answers to FAQs below.

1. What should I have in place before taking this course?
Before enrolling, you should have an email list, a website, and social media accounts set up (or at the very least, have plans to set those things up very soon). These are the channels you'll be using to promote your course and make sales when it's time to launch. Inside Your First Course Launch, I explain how to grow your email list with relevant, warm leads in the weeks leading up to your launch — so no worries if your list isn't huge yet.

2. Do I need to run Facebook ads or host webinars to sell my course?
No! Although these are both things you can do, for your first course launch I suggest keeping it simple. As you get more comfortable launching courses, you can incorporate advanced strategies like webinars and Facebook ads into your launches.

3. Besides launching, do you also talk about the process of creating a course in Your First Course Launch?
We talk mostly about launching, although after working through each lesson and completing the exercises in your course workbook, you'll have an extremely solid game plan for moving forward and creating your course. When you sign up, you'll also receive the Course Creator's Toolkit bonus, which includes all of my recommended tools for creating your course content.

4. Do you offer refunds?
Because everything in this course is instantly accessible, no refunds will be provided. If you have questions or hesitations about joining this course, please reach out to me at [email protected] and I'd be more than happy to help you decide if Your First Course Launch is the right fit for you.


5. Are the lessons released over time or will I have instant access to all of them?
You'll have instant access to all 15 lessons PLUS the bonuses from the minute you sign up, so you can work through the material at your own pace, whenever you like.
To recap, here's everything you'll receive when you sign up for Your First Course Launch today:
🖥 15 step-by-step video lessons, covering everything from choosing your course topic, to planning out your pre-launch, to creating the perfect sales page, and so much more (all videos are downloadable to your computer so you can watch them anytime!)
📖 A beautiful 25-page course workbook to help you take action on everything you're learning and plan out your profitable launch
🗓 A Launch Calendar to guide you as you successfully execute your first launch with minimal stress
🛠 The Course Creator's Toolkit, a list of my top tools for creating, marketing, and selling your courses
Let's be honest, babe: Courses are calling your name.
By this time next year, you could have a fully-fledged online course business, bringing in thousands of dollars every month.
...But you have to take the first step, right here, right now.
Courses are a $100+ billion industry, and they aren't slowing down anytime soon.
The sooner you create and launch your first course, the sooner you'll be able to leave your day job to work from home full-time.
Join me inside Your First Course Launch today and use my exact strategies to plan, schedule, and execute your first profitable course launch in the next 6 weeks.
Sure, you could try to learn all of these strategies on your own, and suffer through multiple failed launches before you finally (maybe eventually) strike gold...
...OR you could follow a foolproof launching system from DAY ONE and start making money with courses from your very first launch & earn back your investment in YFCL ten-fold!
This course is closed for enrollment.